Call of Duty: Modern Warfare 3 Geek
Call of Duty: Modern Warfare 3 (stylized as CALL OF DUTY: MW3, and also known as COD: MW3, or simply MW3) is the eighth main Call of Duty game, and the fifth developed by Infinity Ward. It is the sequel to Call of Duty: Modern Warfare 2. Later that day, four teaser trailers for Modern Warfare 3 were released on Call of Duty's official YouTube channel. The full reveal trailer was released on May 23, 2011. The trailer was leaked almost two hours before the scheduled air time, prompting Activision to officially release the reveal trailer earlier than planned. Now, Geekscene will talk about: Plot, Multiplayer, Special Ops.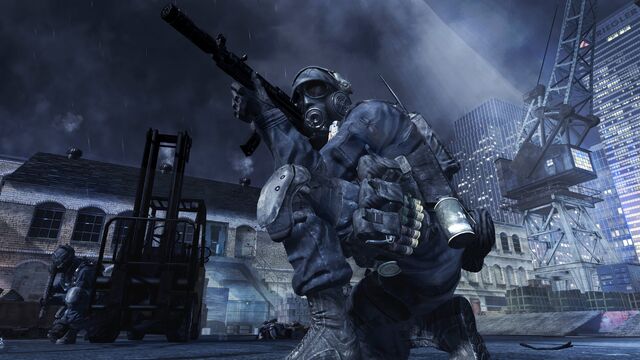 Plot
A soldier named Yuri, aids Price in giving Soap medical attention, securing a safe route to the extraction point out of the country. A Delta Force team call-sign "Metal" under the command of Sandman is deployed in New York City to repel the Russian assault along the East River. With Soap largely recovered from his injuries, Yuri gives Price intelligence about an arms deals involving Makarov in Sierra Leone. Operating on the intelligence acquired by Price, Team Metal executes a joint operation with the French GIGN to capture Volk. With the aid of Kamarov, Price, Soap, and Yuri infiltrate the city with the intention of assassinating Makarov. Price takes a position in the Hotel Lustig, while Soap and Yuri provide cover from a nearby church. However, the assassination attempt goes awry when Makarov takes Kamarov hostage, revealing that he is aware of Yuri's alliance with Price and Soap. Yuri survives, but Soap is wounded. Enraged, Price punches Yuri down a flight of stairs and threatens to execute him. Yuri attempted to prevent the massacre, but was wounded by Makarov before it happened. Price and Yuri infiltrate the fortress and learn of President Vorshevsky's captivity, as well as recent intelligence that the President's daughter is in Berlin. Price and Yuri destroy the base and relay the intelligence to Team Metal. Team Metal acts on Price's findings and attempts to reach the safehouse where Vorshevsky's daughter has taken refuge, but they are too late to prevent her capture.
With the war over, Price and Yuri track Makarov to the Hotel Oasis in the Arabian Peninsula. The floor collapses, and Price narrowly escapes falling to his death. Makarov attempts to escape via helicopter, but Price manages to sabotage it. Rounding on Price, Makarov prepares to execute him, only to be interrupted by Yuri. Price survives the fall and lights a cigar while watching Makarov's hanging corpse.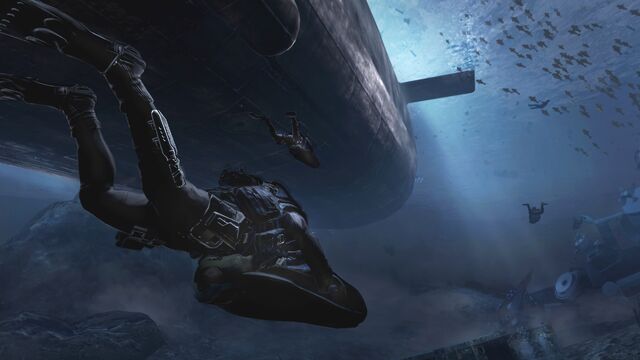 Multiplayer
The Multiplayer was revealed to the general public during the Call of Duty XP Event on September 2 and 3, 2011. Attendees were able to experience multiplayer gameplay two months before the game's release.
The core multiplayer gameplay has been likened to a spiritual combination of Call of Duty 4: Modern Warfare and Call of Duty: Modern Warfare 2 but with several major additions: 1) Each Prestige now has 80 levels. 2) New, changed and removed perks, as well as the re-inclusion of Overkill, Dead Silence, and Extreme Conditioning. 3) Weapon Proficiencies allow for further class and weapon customization. 4) Each weapon now has its own individual rank (known as Weapon Level) and in order to level up the weapon a player needs to use it to unlock its attachments, proficiencies and challenges. 5) The old killstreak system has replaced with the Strike Chain, with 3 different Strike Packages for pointstreaks to choose from: Assault, Support, and Specialist. 6) Three new game types called Kill Confirmed, Infected and Team Defender. 7) Players have the ability to scroll pointstreak rewards. 8) Players have the ability to set a separate pointstreak progression for each custom class. 9) There is now a visible pointstreak counter included in the HUD. 10) Players' pointstreaks restart after their last pointstreak reward is reached, without needing to die to restart their streak. 11) Private matches now have a variety of pre-set custom game modes. 12) There are 16 multiplayer maps on the disc, and each one of them is also playable in Survival Mode. However, the maps differ in difficulty. 13) Online Split-Screen returns from Black Ops. 13) Theater Mode has also been included. 14) There are more options for disabled players and/or those who are handicapped. 15) The player needs to level up separately once again in offline split-screen, unlike in Black Ops, where everything is unlocked.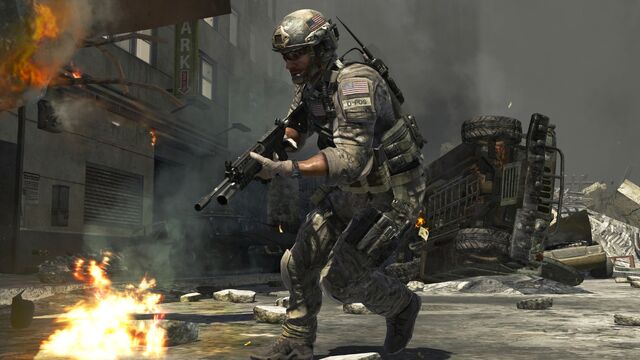 Special Ops
A completely new feature is the addition of a ranking system similar to Multiplayer's. The player earns experience points in survival and mission modes, unlocking new missions for mission mode and new weapons, equipment, perks for Survival Mode.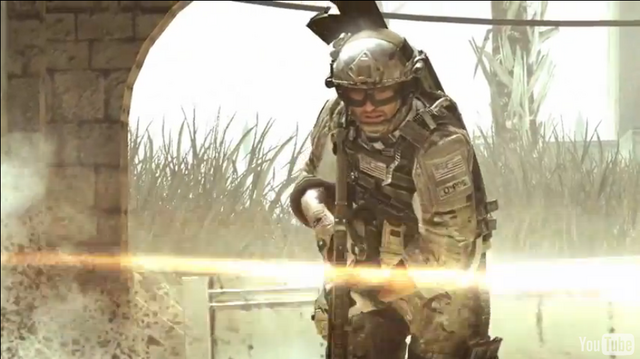 Call of Duty: Modern Warfare 3 Gallery
Call of Duty: Modern Warfare 3 Video